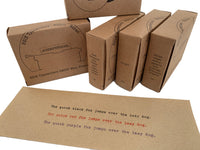 Ribbons
We have ribbons for almost all manual typewriters. In the colours Black, Black & red, Purple.
Shop ribbons now
Typewriter Pad
A typewriter pad is an essential writing accessory. This typewriter pad is made of three layers. First a layer of cork which provides a non-slip surface, so the typewriter dont move when typing. Next layer is felt and have sound dampening effect, and also have a dampening effect on typing vibrations (vibrations can have damage the mechanicals of the typewriter).
The top layer exist in four different smart colours and there is guaranteed one of them will fit well for your typewriter! SHOP NOW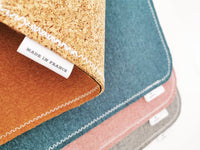 Personalization
Each typewriter comes with a certificate and user manual printed by BSIE. Beside that we can personalize each order.